In The Press
From the Washington Post:
Good to Go

JJ Deli at Herndon Centennial
Washington Post
Wednesday, April 18, 2007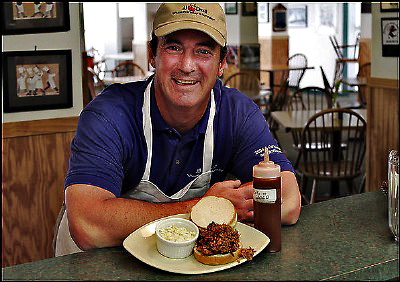 The tender, smoky chopped pork sandwich at JJ Deli in Herndon is served out of the nondescript clubhouse at the town's public Centennial golf course. But there's no sign out front for the deli. Ask the guy in the pro shop, or just follow your nose.
For five bucks, you can get a mouth watering heap of owner Jeff Johnson's pride and joy: moist pork, piled on a bun with a side of slaw. Make sure he gives you a squeeze bottle of Big and Bold, his homemade barbecue sauce. Squirt some on the pork and open wide.
Full Story Here>>>